My Million Dollar Year: Swag
Black shirts. Because sysadmins have to wear something.
NEW! Now you can buy one of the new My Million Dollar Year shirts, as seen below: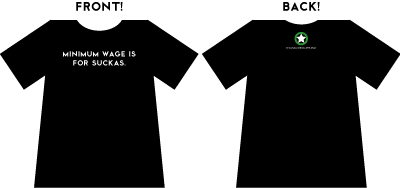 Pithy saying on front, and snappy logo and URL tastefully installed on the back. Show The Man who's boss!
Available in man size ($25 CDN) and skinny fit ($28 CDN)! Those prices include shipping to ANYWHERE IN THE WORLD! Whatta deal!
MEN'S LARGE:
SKINNY FIT MEDIUM:
A closer look at the graphics on the shirts:



DISCLAIMER: Please allow 2-3 weeks for delivery. Men's size is LARGE (which is good for most guys) and skinny fit is MEDIUM (which looks good on most girls). If you need another size, please contact me before ordering - I will do absolutely everything I can to accomodate you. Please note that 2XL and up will cost an extra $5 (that's the printer's rules, not mine!) Canadian residents, PayPal will add 7% GST to your order automatically. That's not my idea either. If you want to buy in bulk or you want to sell these in your store, contact me - I can make you a better deal if you want a large order! Shipped orders are final sale.
The Other Swag
Notebooks! Buttons! Hoodies! Clocks! Mousepads!
Sweet merciful crap, you can buy all kinds of fine merchandise in the Cafe Press store!