Artifacts
Artifacts of this project are now available for purchase! All are one-of-a-kind and original. (To see how this whole process works, click here to be taken to an explanation.)
Things Currently For Sale
My Broken Glasses
I broke my glasses in the first week of this project. The hinge on the side of the glasses is smashed and can't be replaced (yes, I checked). The glasses are black plastic that are red on the inside. Lenses are scratched. I've had them since 2001.
PRICE: $200 CDN
Lottery Tickets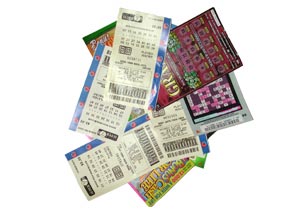 I'm playing the lottery every week during this project. I have lost every time, except for once when I won $4, and when I won $10 US on a ticket I bought in the diner where they filmed some of Million Dollar Baby. Coincidence?
Anyway, I have each categorized according to week. You can specify a week and if I still have it you can buy it, or you can just let me choose one at my discretion.
PRICE: $300 CDN each
Original Film Footage
I have a LOT of footage so far. If you want to buy a tape containing something specific, let me know what it is and I'll find it for you (if the event you're after is contained on more than one tape you can buy both or choose just one). If you don't care which you get, then I'll just send you a good one.
PRICE: $500 CDN
FIRST EVER Concept Sketches for My Million Dollar Year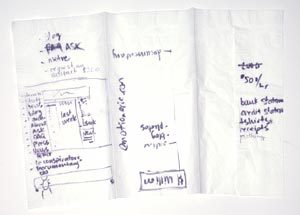 In mid-December 2004 I went for a beer with my friend Steve because I wanted his thoughts on this crazy idea I had for making a million bucks in a year. He thought it was great and we started planning immediately. As cliche as it is I didn't have a notebook or anything with me so the first draft of the site and the first bunch of moneymaking ideas were fleshed out on this napkin. I love this artifact, it's absolutely the only one like it.
PRICE: $1000 CDN
Virgin Wristband
On March 2 2005 I managed to weasel my way onto the guest list for the launch party for Virgin Mobile in Canada. Richard Branson was there AND I MET HIM OH YES I DID. This is the wristband I got at the door. One of a kind!
PRICE: $700 CDN
Uncut Stickers
I got a thousand stickers for ultra cheap. They came on a roll. You can have the last 32 in a continous uncut strip. Includes cardboard core.
PRICE: $400 CDN
Map of Hollywood
The well loved and extremely well used map of Hollywood, Bel Air, Beverly Hills and Malibu that I used to deliver the yellow letters to celebrities. Extensively notated and drawn upon, was used daily for strategizing and making itineraries. Includes hearts drawn around James Spader's name because Tanya has loved him since Pretty In Pink. Portion of the map got ripped off when it was closed in a car door, but was recovered and it will be included.
PRICE: $750 CDN
Jeopardy! Pen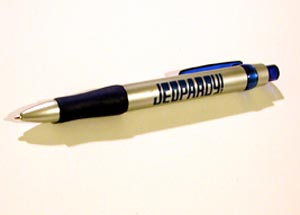 I tried out for Jeopardy! when I was in Los Angeles. Unfortunately nearly everyone failed the test, including me. But I got this spiffy pen! It also was the pen I used to write the infamous Yellow Letters to celebrities. ONE ONLY!!
PRICE: $700 CDN
Lemonade Cup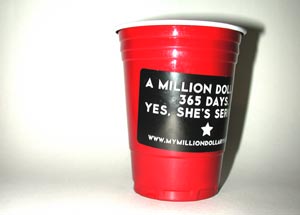 I have eight commemorative cups left over from the lemonade stand. You can buy them one at a time, or buy the whole bunch to class up your china setting for eight at your next dinner party. Each one holds a lot of lemonade (not included).
PRICE: $150 CDN each
How This All Works
Oh trial and error, how I loathe you. Ebay keeps axing my listings, and quite frankly I'm tired of paying them to list things so they can axe it soon after. So. Here's how I'm selling things. If you have something to say or have questions, I'm more than open to that. Email me and we'll talk.

So here's the deal:
Artifacts will be listed here as they become available for the listed price. You can buy them immediately through PayPal. These are ALL one of a kind, so first buyer gets it. (In the unlikely event that you try to buy an item and someone else has already bought it, your money will, of course, be returned as soon as possible. If you want an artifact but do not have a PayPal account or can't get one, contact me and I will hold it for 5 days while I wait for your money order to reach my snail mail address. Let it never be said that I'm not flexible).
An automatic $5 will be added to the total for shipping and handling. Canadian residents, Paypal will automatically charge you 7% GST. Don't look at me - I didn't vote for Mulroney.
Every item is a one-of-a-kind, original object that has been used or created over the course of this project, and is sold to you in the exact condition in which it is pictured in the photograph.
No returns and no refunds. No bartering and prices will not be negotiated or lowered - unless it's for something really inexplicably cool like a copy of Spiderman #1. I'm open to ideas, but not that open.
Prices are subject to change without notice.